Old Africa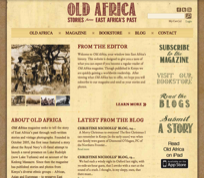 Christine Nicholls is a regular contributor to the Old Africa magazine blog. Click the image to visit the website.

Old Africa magazine seeks to tell the story of East Africa's past through well-written stories and vintage photographs.
Founded in October 2005, the first issue featured a story about the Royal Navy's ill-fated attempt to launch a naval presence on Lake Rudolph (now Lake Turkana) and an account of the Kedong Massacre. Since then the magazine has published stories and photos from Kenya's diverse ethnic groups – African, Asian and European – to preserve East Africa's history.